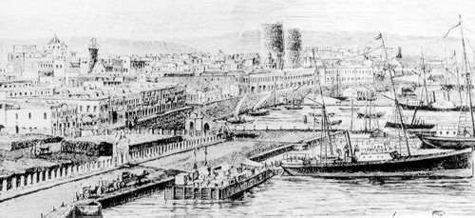 #1...Baku...Panoramic view of the city from the sea
Baku Zavelskys
Moishe Zavelsky, son of "The First Ilya," settled in the Azov area after his military service. According to family legend he was a tailor and after living for a time in Azov, Moishe and his children moved to Baku where they raised their families. For a period, Moishe also lived in Temir Klechmore.

Several years ago a Glukhov Zavelsky met a Baku Zavelsky who told him that the Baku Zavelskys knew they were originally from Glukhov.

The family first name of Ilya is used in both the Glukhov and Baku families and can be found in almost every generation.
History of Baku
The capital of Azerbaijan, Baku is located on the western shore of the Caspian Sea and is one of Azerbaijan's largest cities.

The center of Baku is the old town, which is also a fortress. Most of the walls, strengthened afterthe Russian conquest in 1806, survive. This section is picturesque, with its maze of narrow alleys and ancient buildings.

Modern Baku spreads out from the walls, its streets and buildings rising up hills that rim the Bay of Baku. Greater Baku is divided into 11 districts and 48 townships.

Baku is a major cultural and educational center, with a university and other institutions of higher education. One of these specializes in the petroleum and chemical industries. The basis of Baku's economy is petroleum.

Other industries are shipbuilding and repair and the manufacture of electrical machinery. Chemicals, cement, textiles, footwear, and foodstuffs are also produced. Archaeological evidence indicates that Baku was an ancient settlement. Persia controlled the site by the 11th century, though for a time during the 13th and 14th centuries it was captured and possessed by the Mongols. In 1723 Peter I the Great, czar of Russia, captured Baku, but it was returned to Persia in 1735. Russia captured the town in 1806, and in 1920 it became the Azerbaijan capital.

Population (1991 estimate), 1,713,300 Excerpted from Compton's Interactive Encyclopedia Copyright © 1994, 1995 Compton's NewMedia, Inc