Click below to view the pages for each family

Display/Hide All

This is the story of the Goldberg family from Jablonka, Poland, my husband's paternal family.

Family legend is in or about 1800, two brothers left their hometown of Choyner, (Poland) near Lodz. At the time, most Jewish families did not have surnames, hence the brothers were called Choyner. The two brothers migrated to the town of Zambrow and the neighboring village of Jablonka, in the Bialystok District of Poland.

Somewhere enroute, they assumed the name Golombek. Upon immigration to America, the name was changed to Goldberg. (see the research section for further details)
My father-in-law Irving told me his hebrew name was "Joyner." After much research, I realized that he was problably named after his great grandfather, who was called Choyner after his home town. The hebrew spelling is Joina.

We look forward to working further on the family story in the near future, and welcome any help family members would like to offer.

The Goldberg Family Story is in memory of my father-in-law, Irving Goldberg, a kind and wonderful man, who passed away June 29, 1999. He is missed by all.
New On The Goldberg Site
Brandon Cohen's Bar Mitzvah. Click here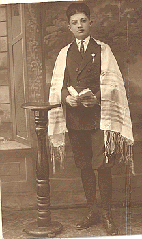 #1...Irving Goldberg, my father-in-law, at his Bar Mitzvah in 1921, New York.

#2...Irving with his YMHA Basketball team.

To see additional Goldberg Family pictures, click here.