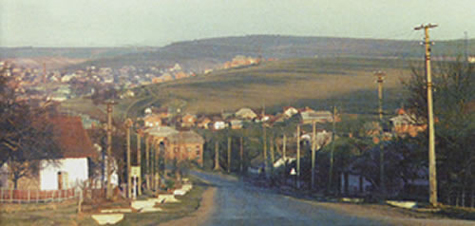 Berezhany...From a distance in Present Times
Berezhany is small town in Western Ukraine. It was part of Austria (1772-1918), Poland (1387-1772, 1920-1939), Fascist Germany (1941-1944), USSR (1939-41, 1944-1991) and after the collapse of Soviet Union, since 1991 it is part of independent Ukraine

Berezhany is located in Ternopol region (oblast), about 90 km south-east from Lviv/Lwow/Lemberg in Western part of Ukraine, in the valley of Zolota Lypa (Golden Lime tree) river. When we visited Ukraine in 1995, we drove on the road that passed through Berezhany on our way from Lviv to Kiev. Unfortunately, we did not know at the time that this was the ancestral town of the Katz family. Berezhany is administrative center of Berezhany district with about 19.000 inhabitants, mostly Galician Ukrainains. In 1939, there were 400 Galician Ukrainians/Ruthenians, 6.600 Poles and 3.000 Jews, most of whom were shot by Germans at the Holocaust time and are burried in mass grave at the large Jewish cemetery of Berezhany). Today, Berezhany is famous for the castle of The Seniawski magnate family,and the former Armenian colony and church. A major glassworks plant, brickworks factories, large deposits of limestones and sand are in the area.