Click below to view the pages for each family


Display/Hide All

Chaiken Family of Nezhin

Chaiken Homepage

Ancestral Towns

Nezhin

Chernigov

Odessa

Philadelphia

Family Trees

Family Tree

Surname Index

Photo Albums

Video

Immigration

Research

Documents

Lost & Found

Bibliography

This Year's Milestones

Web Links

Chazanov Homepage

Ancestral Towns

Nezhin

Sosnitza

Family Trees

Family Tree

Surname Index

Photo Albums

Video

Immigration

Research

Documents

Lost & Found

Bibliography

This Year's Milestones

Web Links

Fine Family Homepage

Ancestral Towns

Bialystok

Warsaw

Ciechanoviec

Family Trees

Family Tree

Surname Index

Photo Albums

Video

Immigration

Research

Documents

Lost & Found

Bibliography

This Year's Milestones

Web Links

Geffen Family Homepage

Ancestral Towns

Vilkomir

Jonova

Kovno

Vilna

Other Towns

Family Trees

Family Tree

Surname Index

Rabbi Tobias Geffen

Photo Albums

Video

Immigration

Research

Documents

Lost & Found

Bibliography

This Year's Milestones

Web Links

Goldberg Family Jablonka

Ancestral Towns

Jablonka

Zambrow

Family Trees

Family Tree

Surname Index

Photo Albums

Video

Immigration

Research

Documents

Lost & Found

Bibliography

This Year's Milestones

Web Links

Katz/Hollander Homepage

Ancestral Towns

Berezhany

Lemberg

Family Trees

Family Tree

Surname Index

Photo Albums

Video

Immigration

Research

Documents

Lost & Found

Bibliography

This Year's Milestones

Web Links

Zavelsky Homepage

Ancestral Towns

Glukhov

Nezhin

Baku

Kiev

Kharkov

Family Trees

Family Tree

Eliezar's Family Tree

Moishe's Family Tree

Surname Index

The First Ilya

Eliezar's Family

Moishe's Family

Photo Albums

Video

Immigration

Research

Documents

Lost & Found

Bibliography

This Year's Milestones

Web Links

Click here to see the Manifest for Leizor Hillel Chaiken aboard the S.S. Mauretania

Click here to see the Death Certificate for Mire (Miriam) Chaiken Chazanoff.

Ellis Island Site Now you can actually find and view your ancestors records upon their entering America through Ellis Island between 1892 and 1924. See actual manifests, ships photos, etc.

An amazing site. You must register (free) to view records.

"We have hundreds of documents in our files. Below is a sampling of a few."

My grandmother Manya made two trips to America from Odessa. It was always a mystery in the family how and why she did this.

For the step by step process of how I solved the mystery of my grandmother Manya's two trips, through documents, Click Here.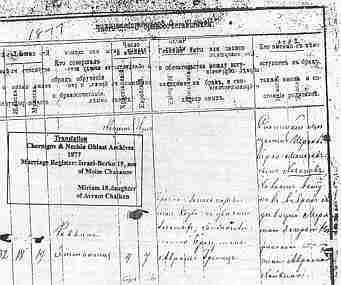 Translation..Chernigov & Nezhin Oblast Archives, 1877, Marriage Register: Israel Berko 19, son of Moise Chazanov and Miriam 18, daughter of Avram Chaiken.

Our granddaughter Sara, a few years ago, sitting on the bench in the Ellis Island waiting room. Sara's 3rd great uncle Hillel Chaiken and her third great grandmother, Mire Chaiken Chazanoff, sat in this same room

Partial List of Documents We Have
Birth Records
Death Records
Marriage Applications
Petitions for Naturalization
Declarations of Intent
Citizenship Papers
Social Security Applications
Divorce Records
Wills
etc.