Memorial For Idan Geffen...1990-2009
Idan Geffen Fund For Music Education...Click here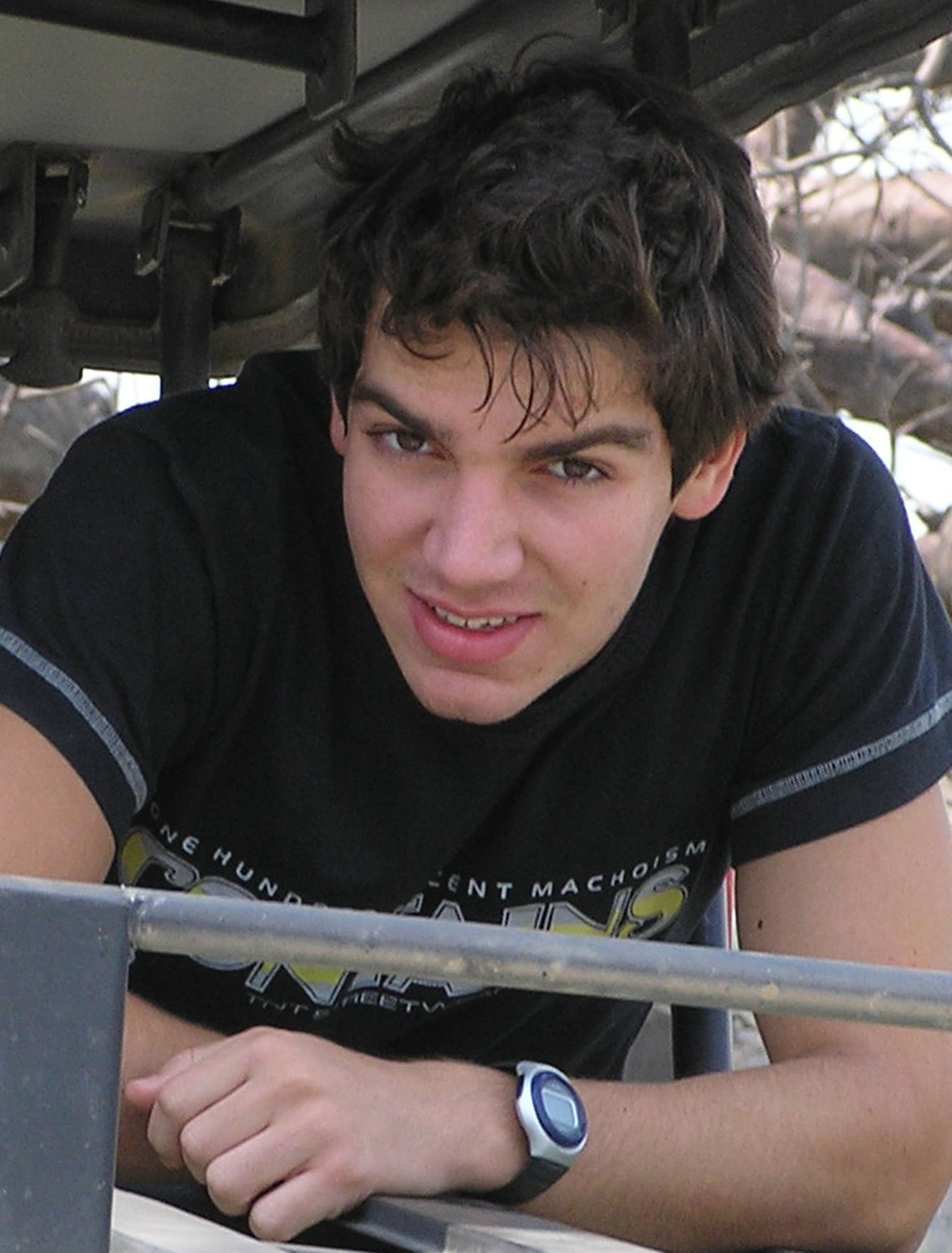 Idan Geffen
16-6-90 to 17-10-09
Idan was the son of Robert and Yaffa Geffen, grandson of Abraham and Ethel Geffen, greatgrandson of Rabbi Tuvia Geffen. He died tragically while serving in the Israel Defense Forces. He is survived by his parents and sister, Aynat, who live in Moshav Nir Moshe, in Israel's southern Negev. Idan graduated Shaar Hanegev High School, majoring in chemistry and physics, was a gifted musician, and had earned his black belt in karate after years of training.
From Idan's Family....To all our family and friends in the US and Canada-
Robert's words at the funeral
We will never know what happened the night that we lost you, but we, and everyone who knew you, knows that it was a terrible accident.
You were always full of the joy of life. Already as a small child you were the embodiment of enthusiasm, in everything you did, and that continued until today.
Only just a week ago we hiked together in Sde Boker and I saw how much you enjoyed swimming in the cool waters of the Akev spring.
The world lost such a good and wonderful human being, and did not get to see the huge potential that was inside you. It's important that everyone hear a little bit about that.
You were a person with so many different talents. You were a great musician, blessed with an excellent musical memory that I so much admired. And when the muse arrived, you just had to play, and everyone enjoyed it.
You studied karate for years and at the age of 16 reached the great achievement of black belt. To watch you train was like watching a dance, you were so good and beautiful doing it.
In high school you made excellent grades, and we will never know where you would have reached and what the world lost. Just last week we talked about what you might want to study in the future and you surprised me when you said "astrophysics".
Those were your ambitions, to touch the stars.
We love you forever,
Mom, Dad,Aynat and all the family
Yaffa's words to Idan, at his grave, 30 days after:
My dear Idan, my firstborn son,
It's been a month since we received the bitter news.
A month that I feel as if I'm in a fictional horror movie, not believing that I'm taking part in it, waiting for the moment that I wake up from this delusion to the peaceful routine that I knew before.
You were born on June 16, 1990, into a struggle for survival. For almost seven days you didn't eat, another week in intensive care, another two weeks of trying to teach you to eat. Despite all the apprehensions you left the hospital as a healthy child in every way, smiling and full of vitality.
When you were about 4 months old I hugged you in my arms, stood facing the mirror, and enjoyed how we looked together- me, a mother because of you; you, my beloved firtborn baby; when suddenly the thought crossed my mind that I received you "on loan".
"On loan?" I ask, and for such a short time???
You grew up as a child of nature, sensitive and special, curious and enthusiastic. You were vegetarian from birth until bar mitzva, out of choice. You loved animals so much, especially cats. From the moment you learned to talk you spoke with God and about God, as if you were born with the absolute knowledge that He exists, and you held on to this faith until your last day.You were a modest boy, with a shy smile, who made do with little as if from a material standpoint you came satisfied into the world.
At about the age of 16 you began to develop your body. In addition to the karate training you added to your schedule a routine of running and physical training, you started to eat meat- you especially loved shwarma- in order to strengthen your muscles and prepare yourself for the combat military service that you insisted on doing.
Tomorrow will be one year since you were inducted into the army.
We haven't even gotten used to the idea that you are a soldier, and you already are not with us anymore.You disappeared from us so suddenly and we are left stunned, hurting, and refusing to believe, we can't comprehend.
We are left with the memories and the longing. The memory of the sounds of your wonderful piano playing, the memory of your flexible body dancing to the karate moves, the memory of you stretching out in front of the television, watching with active enthusiasm action movies, mysteries, and animated films, yes in your soul you still were a child.
In the last week before your tragic, incomprehensible death, you were on leave at home. You were effervescent and lively.You took pride in your new swimming "record". We spent a whole day together, shopping, errands, you wanted to buy new jeans, and you did, after a thorough and uncompromising search, ignoring the flattery of the salesgirls.You knew exactly where you wanted to have lunch, and you made sure to choose a nutrious, healthy dish- healthy food was important to you for a healthy body.
You spent hours in front of the television, rolling with laughter or alternatively making your comments, advising the heros of the films as if you were taking an active part in the story, running to the fridge every so often to find another treat, another taste of fun.
You met with friends, you went with Dad hiking, and gave him a lot of pleasure just from bringing up the idea of hiking together, just him and you.
Idan, I want to believe that you are now in a better world, enwrapped in the love of Savta Adina [Robert's mother, Ethel] and Saba Moshe [Yaffa's father, Moshe], watching us from above, seeing and not being seen, hearing and not being heard.
I want to believe that your soul will accompany us in our earthly lives that are so hard to bear, as if you haven't left us at all.
Idan- delicate soul- your memory will be with us forever. My dear jewel. You were and forever will be an inseperable part of me and the family.
Our dear Idan- may your soul rest in Paradise. Nishmatcha eden.
Aynat's words to Idan, 30 days later:
I'm standing on a bridge and its paint is new
On one side you are here but not on the other side
And it is hard for me to cross the rickety bridge
Because the abyss below is deep
An abyss of madness and longing.


I play on the guitar quiet melodies
Empty melodies
Melodies of longing
Without words, without voice
While inside there is a great cry
And a song rolls around my stomach
And ever so slowly the tears well up and flood my eyes
And everything looks blurred
And you, you're not seen at all
You went too far
To a place that's not a place
To no place
And my throat chokes
And suddenly
A string breaks
And when night falls
The sun is missing
But for me you are missing
By night and also by day
And the darkness suddenly frightens
Confuses, deludes For you are not here
But your soul is with me.



Every plane that flies in the sky
Every star that shines in my eyes
Reminds me of you
A wagtail before the rain
Crickets in the evening hours
Will always await you.
Shani's (Idan's cousin) words to Idan, 30 days after:
Lately thought is cloudy and the soul sinks to unknown places.
Even though in this land we know better than everyone, and since we were small- that sometimes that is life, and things like this happen-even so, lately our world turned into a strange place, different and strange to live in. People say that there are no other worlds. But we know today that you can get up and walk and eat and be silent like everyone- but in a totally other world.
Time knows its job and does not concede to anyone. Mortals like us can only stamp our feet and cry- and if that is not enough? If we want more time? Another moment? For we have so much to do, so many things we haven't yet said, so many things that have to be said again- but our time is up.

And another time has begun for us- a time without him. A time of absence, of without.

Without his laugh, without his song, without the things he loved to do and the things we loved to do with him. Without new memories of him. Everyone remains with his own memories of Idan. But no one has enough. Already 30 days of absence.

And all this time I don't believe it. It can't really be like this. I am sure, that at any moment I will return to that world, familiar and comfortable, in which I know where they are, where I am, and where Idan is. A world in which I have comfort to offer, and ways to find solutions. A world in which I have words and my words have meaning. And until I wake up time continues to pass, we continue to live in the world of the "absent", the "without", the "there is no". That the only thing that exists there- is longing.