Click below to view the pages for each family


Display/Hide All

Chaiken Family of Nezhin

Chaiken Homepage

Ancestral Towns

Nezhin

Chernigov

Odessa

Philadelphia

Family Trees

Family Tree

Surname Index

Photo Albums

Video

Immigration

Research

Documents

Lost & Found

Bibliography

This Year's Milestones

Web Links

Chazanov Homepage

Ancestral Towns

Nezhin

Sosnitza

Family Trees

Family Tree

Surname Index

Photo Albums

Video

Immigration

Research

Documents

Lost & Found

Bibliography

This Year's Milestones

Web Links

Fine Family Homepage

Ancestral Towns

Bialystok

Warsaw

Ciechanoviec

Family Trees

Family Tree

Surname Index

Photo Albums

Video

Immigration

Research

Documents

Lost & Found

Bibliography

This Year's Milestones

Web Links

Geffen Family Homepage

Ancestral Towns

Vilkomir

Jonova

Kovno

Vilna

Other Towns

Family Trees

Family Tree

Surname Index

Rabbi Tobias Geffen

Photo Albums

Video

Immigration

Research

Documents

Lost & Found

Bibliography

This Year's Milestones

Web Links

Goldberg Family Jablonka

Ancestral Towns

Jablonka

Zambrow

Family Trees

Family Tree

Surname Index

Photo Albums

Video

Immigration

Research

Documents

Lost & Found

Bibliography

This Year's Milestones

Web Links

Katz/Hollander Homepage

Ancestral Towns

Berezhany

Lemberg

Family Trees

Family Tree

Surname Index

Photo Albums

Video

Immigration

Research

Documents

Lost & Found

Bibliography

This Year's Milestones

Web Links

Zavelsky Homepage

Ancestral Towns

Glukhov

Nezhin

Baku

Kiev

Kharkov

Family Trees

Family Tree

Eliezar's Family Tree

Moishe's Family Tree

Surname Index

The First Ilya

Eliezar's Family

Moishe's Family

Photo Albums

Video

Immigration

Research

Documents

Lost & Found

Bibliography

This Year's Milestones

Web Links

Click here to go to Eliezar and Mina Zavelsky's Family.


Elias | Doba | Hannah Gitel | Israel Noah | Hinda | Mina | Moshela | Zavelleh
Elias Zavelsky

Elias was born in 1885 in Glukhov. He studied in the same Yeshiva as Zalman Shazar the second president of Israel.

When he was a young man he left Glukhov in order to avoid going into the army and went to Grenoble France where he received his degree in five languages. His wife Esther Malkin was a graduated head nurse. When the Czar's army started to round up Russian citizens living in France he immigrated to Harbin, China. After that he went to Yokohama, Japan and then immigrated to America via San Francisco. Their son Alexander was born right after their arrival in San Francisco.

In 1917 the family moved to Milwaukee where his cousins the seven Franklin brothers were living. They immigrated to Palestine in 1932 where they were ardent Zionists and lived on a kibbutz for 30 years until 1962.

Elias changed his name to Zavel upon moving to Israel. He later found out that Zavel meant manure in Hebrew and thus picked the new name of Ephrat.

Elais was an ordained Rabbi at 26, but at 29 he became and atheist. He died of cancer in the sixties.

Doba - Hannah Gitel - Israel Noah - Hinda - Mina - Moshela - Zavelleh

Until two months ago, we knew nothing of any of the children of Berel, except for Elais.

We now know through the grandson of Israel, the following:
* In 1919 Doba Zavelsky was married to Grigory Persov
* Hannah Zavelsky had a daughter Penya
* Israel Noah born circa 1890, married Yelizaveta and died in 1938 in Simferopol, Ukraine. His wife died in 1942 in the occupation of Simferopol. They had a daughter Rosa, born 1922 in Kremenchug, Ukraine. Rosa's son has provided this information
* Hinda Zavelsky married Jacob Glodsher
We hope to learn more about the family in the near future.
| | | |
| --- | --- | --- |
| | | |
| #4...Hinda's husband Jacob, Hinda, Doba and Mina...1919 | #5...Mina, Berel and Doba...1932 | #6...Hannah Gitel,, her mother Frieda, Doba and Berel...1932 |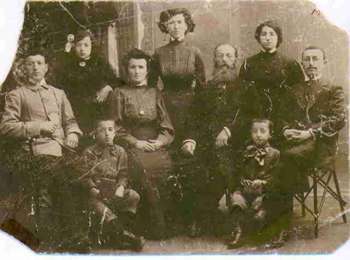 #1...The Family of Berel Zavelsky in Glukhov...1910. Standing: Mina, Hannah, Gitel, Hinda. Middle row: Israel-Noah, Freida (Berel's wife), Berel, Elais Bottom row: Zavelleh holding sister Doba's photo, who was not present at the time and Moishe. Click here for larger photo.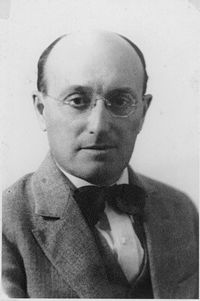 #2...Elais Ephrat, formerly Elais Zavelsky...photo 1948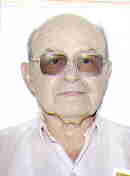 #3...Alex Ephrat...1916 - 1996

Alex was a special man. He was a senior technician in the Israel Aircraft Industry. He loved his country and was a dynamic person. Alex was extremely helpful along every step of preparing this family history.

He was an artist who at the age of 80 was given his own show. He married Mania Baran and they had three children. Mania passed away in 1984 and Alex married a second time.

We miss Alex greatly.