Tributes To
Rose Cohen Sovel
August 4, 1904 to June 24, 2000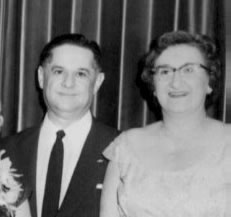 Rose Sovel , nee Cohen, mother of Diane Sovel and the late Charles Sovel, was born on August 4, 1904 and sadly passed away on June 24, 2000. She was survived at the time of her death, by her two children, her daughter-in-law Sandy, five grandchildren and two great grandchildren. She was a part of the Chaiken, Chazanov and Zavelsky families by marriage. Photo is of Rose and her husband Lewis Sovel. Click here to read Rose and Lew Sovel's love story in her own words.

Please click here to view the Sovel Family Cemetery Plot

Eulogies for Rose Sovel, Tuesday June 27, 2000
Eulogy from her daughter Diane

The one thing the family keeps hearing is that everyone loved Rose. She would be the last to understand. When Mother was about 10 years old her mother, who had diabetes, pricked her finger sewingand died from the infection that resulted. After that, while others were at work, Mother came home to a dark and empty house. Fighting her fears, from a block away, she would repeat to herself, "I'm not afraid. I'm not afraid. I'm not afraid."

......So began her quiet courage.

Her father remarried and she heard constant complaining and bickering from her stepmother all night long depriving more than him of sleep.
......So began her philosophy of avoiding harsh words and arguments.
As a young teenager, one day she came home to a house empty except for two beds, bureaus, and a piano for her and her sister. Her father, stepmother and two half-brothers had moved with no notice. My daughter once questioned her whether she was angry with her father for allowing his children to be emotionally abused, abandoning them and leaving them on their own. She answered that he couldn't help himself. He did the best he could.
......So developed her nonjudgmental approach to everyone.
As a young single woman she had a job she loved, money she earned and fun with family and friends. As a married woman she dealt with illness, financial problems and other hardships. In 1946 when the house exploded from a gas leak, she was the first person with that percentage of burns on her body to survive. It was a long and painful recovery.
......So was forged her quiet determination and perseverance.
Because she was so modest and unassuming, she would be the last to understand why so many of you went to the special effort and expense to be here, but we know why:
Her courage,
Her kind words always,
Her lack of judgment,
Her forgiveness,
Her perseverance and quiet determination.
Yes, there are good reasons why everyone loved Rose.
Eulogy from her son Chuck

It has always been a great source of pride for me that the most admired person I knew just happened to be my mother. Friends of mine who had met her, friends of hers from Temple Sinai, were always telling me what a wonderful person she was. I would acknowledge their comments and sort of shrug it off. This was not news to me. It had always been that way.
Over the years, in her own quiet way, Mom managed to touch many people. Like many of her time, she came from a poor background. Her mother died when she was very young and her father remarried a women who had little interest in raising another woman's children. As a result she and her sister, Ida, for practical purposes raised themselves.
She had to support herself at an early age, and after graduating from the old South Philadelphia High School for Girls, she went to work as a bookkeeper for Harry Gordon, the jeweler, on Sansom street.
She worked there for about nine years. She met Dad and they were married, and shortly after that she had Diane. We always tell the story in the family that Diane was a good baby, did what she was told and was easy to handle and that, as a result, Mom thought that having babies was easy. Then she had me, and then there were no more babies.
The 1930's were difficult times. The country was in the midst of the depression and money was tight. Dad was working as a travelling salesman, and would often be away on the road for two or three months at a time. Through all this time, I never heard Mom complain. This was one feature of her character that I came to appreciate more and more over the years. Mom never complained. She accepted life as it came, and simply made the best of it. Whatever happened, whether good or bad, she accepted it. Her attitude was simply that all things will work out for the best.
We moved to West Oak Lane in I think it was 1941 or 42, and it was then that her association, and I would say love affair, with Temple Sinai began. Mom had had no religious training and did not read Hebrew, but that did not stop her. She educated herself on Jewish tradition and practices. She went to services regularly and was active in synagogue activities. When it came to the holidays, she became the center of information for the family on how to prepare the house and how to prepare holiday meals.
If two or three hundred years from now someone attempts to write the history of the Jewish people in America, I am sure that they will point to her generation – our parent's generation – as the great Jewish generation in America. It was a generation that struggled its way through the depression, founded synagogues, raised and educated their children and created the basis for a successful Jewish community today. No one personified the qualities of that generation more than my mother.
In 1964, my law firm opened an office in New York City, and I had moved there. We decided that we needed a part time bookkeeper for the New York office, and since Mom had been a bookkeeper, I enlisted her, at the age of 60, for the job. She would come up to New York every other week for two days to do the books and when that office was closed and I returned to Philadelphia, she became the full time bookkeeper for the firm here in Philadelphia.
Mom was no ordinary bookkeeper as my partners will tell you. Her trial balances had to balance. With many bookkeepers, if a long and complicated trial balance was off by a small amount, they would just forget about it and write off the difference. Not her. She was a perfectionist. Her books had to balance to the penny, and they always did. She retired as the firm's bookkeeper in 1984 at the age of 80 because she did not want to do things by computer. She liked doing things her way.
It was Mom more than anyone who kept the family together. She was always in contact with all the nieces and nephews and cousins no matter where they were located throughout the country. She never forgot a birthday or other occasion, always sending a card and keeping in touch.
Mom raised us with the admonition that "if you can't say something nice about someone, don't say anything," and those of you who knew her, know that that was the way she lived. She was a Jewish mother, not in the comedic sense, but in the traditional sense of Jewish women – strong, and noble and caring.
A few years ago, I had surgery, and following the surgery, while I was still in the hospital, of all things I developed unstoppable hiccups. The only treatment for this was a psychiatric medicine which affected the part of the brain which is associated with hiccups and I was told that once I took the medicine I would be unconscious for 8, 10, maybe 12 hours. I said fine, told my family about it, and told the doctor to proceed to order the medicine.
The next morning, right before I was scheduled to take the medicine, Mom showed up at my bedside. She had taken the C bus all the way down Broad Street to Hahnemann hospital to be there.
I asked her why she was there because I would be unconscious all day. She didn't say anything that I can remember, but shortly after she got there, they gave me the pill, and off to sleep I went. I woke up about 5:00 or 6:00 o'clock at night. The hiccups were gone but my mother was still there. She asked me how I was. I told her I was fine, and a few minutes later, she left.
I thought her conduct was rather strange, but a few days later I realized why she had been there. She had come to the hospital to watch out and make sure nothing happened to me while I was unconscious. She did not ask permission or tell anyone what she was doing or why she was doing it. Rather, even though at the time I was 60 and she was 89, I was still her son, and she insisted on being there to protect me against any harm that might befall me. That was my mother.
Well, Mom will not be here any more to protect us. We will miss her at every holiday and every family get together, but even though she will not be there, her recipes, her training and her spirit will be. She will be remembered with love by everyone, and she will always remain the most admired person I ever knew.

Eulogy from her granddaughter Mira
Death is unfathomable to me. Someone is here and the next moment they're gone. And there's no way to make it make sense. It's for Grandma's physical presence that we mourn the loss, hearing her kind words spoken, seeing the determination with which she faced her days, witnessing the love and care she demonstrated to family and friends. It's knowing that going forward, we'll not have the joy of being with her to share in her smiles and hold her hand, to engage in conversation or simply to sit quietly in the same room.
But as much as Grandma was a gift to all who love her, and they are legion, her life was becoming physically unbearable for her. She couldn't see, she couldn't get around too well on her own and she experienced frequent pain and great discomfort. She was ready to go. And for her, I'm glad she finally has relief. So it's not her death I mourn. It's the loss of her physical presence. And rather than mourning her death, it is her life that warrants celebration.
She was a model of benevolence with never an unkind word. She was devoted to those she loved and to God who was her constant source of strength. She exemplified forgiveness and valued peace in her relationships above all else. It was the example she set in living her life that is a timeless gift. A gift undeterred by death, a legacy with a life of its own. Yes Grandma we'll miss being with you, but you live on in the lives of all you've touched.


Rose and Lew's love story in her own words
"We met 8 or 9 years before we were married. My friend Zelda Benjamin and I would leave work and walk on Chestnut Street at lunch hour. Lew worked at the Benjamin Franklin Hotel which was at 9th & Chestnut...he was in the pharmacy and he must have come out and Zelda introduced us. We met and never had any contact till seven or eight years later. I was still working for Harry Gordon on Chestnut Street and was out doing an errand. I was the bookkeeper and in coming down Tenth street I bumped into Lew. It was right before Thanksgiving, he had been working with a perfume firm and had done all his Christmas selling. He was in town for a month in between holidays and he said how are you and give me your phone number and I will call you. So I gave him my phone number and that was it.

About two days later he called me because Oscar Leventhal, Lew's sister Freda's fiance's younger brother, Sydney, was going to the military school in Pennsylvania. and they were having their Thanksgiving Ball and Sydney could not go if he didn't have a chaperone. So Oscar was going to go with Freda and Lew asked if I had an evening gown. I did and we went. So that was the beginning from when it started and from the month of November I saw him constantly until he had to go back to work. He did not work the Philadelphia Territory,he was in Pittsburgh. He went back to work and then we corresponded and we got married a year and a half later. We were married in Philadelphia. at that Synagogue on 33rd Street. The Rabbi never showed up. I think it was Rabbi Newman. We waited and waited and waited and then they got another Rabbi."